Sayeema Afrin
Multimedia Designer
DOCUMENTARY
MOVING IMAGES
FOOD SECURITY PROJECT
This is a documentary collaboration between SFU's School of Interactive Arts and Technology and the Museum of Vancouver to compile COVID-19 pandemic stories. Being the only author of a documentary during this pandemic era was an eye-opening experience. And it's a method that has given my design work a fresh perspective and new ideas.
Value of this Project:

Museums are extremely important in our culture because they preserve our past. It provides us with a wealth of information about our history and helps us to reflect on it. You can obtain a whole picture of the epidemic if you put the human experience into a documentary. There's a lot that has to be collected as a group. It also brought together individuals, neighbours and neighbours. It has shown us that on the face of the world humankind remains.

My story reflects similar feelings and efforts for the greater good by aiding one another, whether it's with food, safety supplies, or simply being kind. These demonstrate our significance as people who have been affected by the pandemic. My community documentary focused on a garden that gives food to low-income households. During this uncertain time, the essence of other people's excellent qualities, not only their own, manifests as a powerful collective, and we are able to conquer this challenge. We may continue by concentrating on the good.
Because nothing is definite in this undertaking, I had to be adaptable to any situation. I have to be ready to make rapid adjustments when necessary. Even with preparation, a lot of things can't work in time. During pre-production, the most challenging part of this project was coming up with concepts and approaching people. You must understand and know what you can and cannot work with because not everyone agrees with my idea of sharing sensitive personal experiences. It's what happened in the initial iteration of the project; I had many ideas for the project since I was aware that something might not turn out the way I had planned.
I thought I would be working around a small business, but unfortunately, the place I had in mind would not allow me to document. And my time was short; I wasn't able to let myself wait. Also, it was hard for me to gain a 'yes' because I didn't know them at all, let alone from a distance, it was difficult for me to get a yes because my theme was creating a trusting relationship. So, I've changed my gear I used the opportunity to look at what was at my disposal. At the time, I had the honour of working with these fantastical folks who were doing this amazing work of providing for their local community, therefore I approached them for the film. And gladly, they accepted my plan and looked forward to seeing the result.
Which means you have a lot of responsibility and expectations to meet. A backup plan is an excellent idea; it's always better if you're not sure and don't have control over the actions of others. And creative work requires collaboration, which means relying on others. It allowed me to think about a variety of subjects since I knew someone would say yes to me. The process became smooth and easy due to the already established relationship I had with the community.


---
Shot List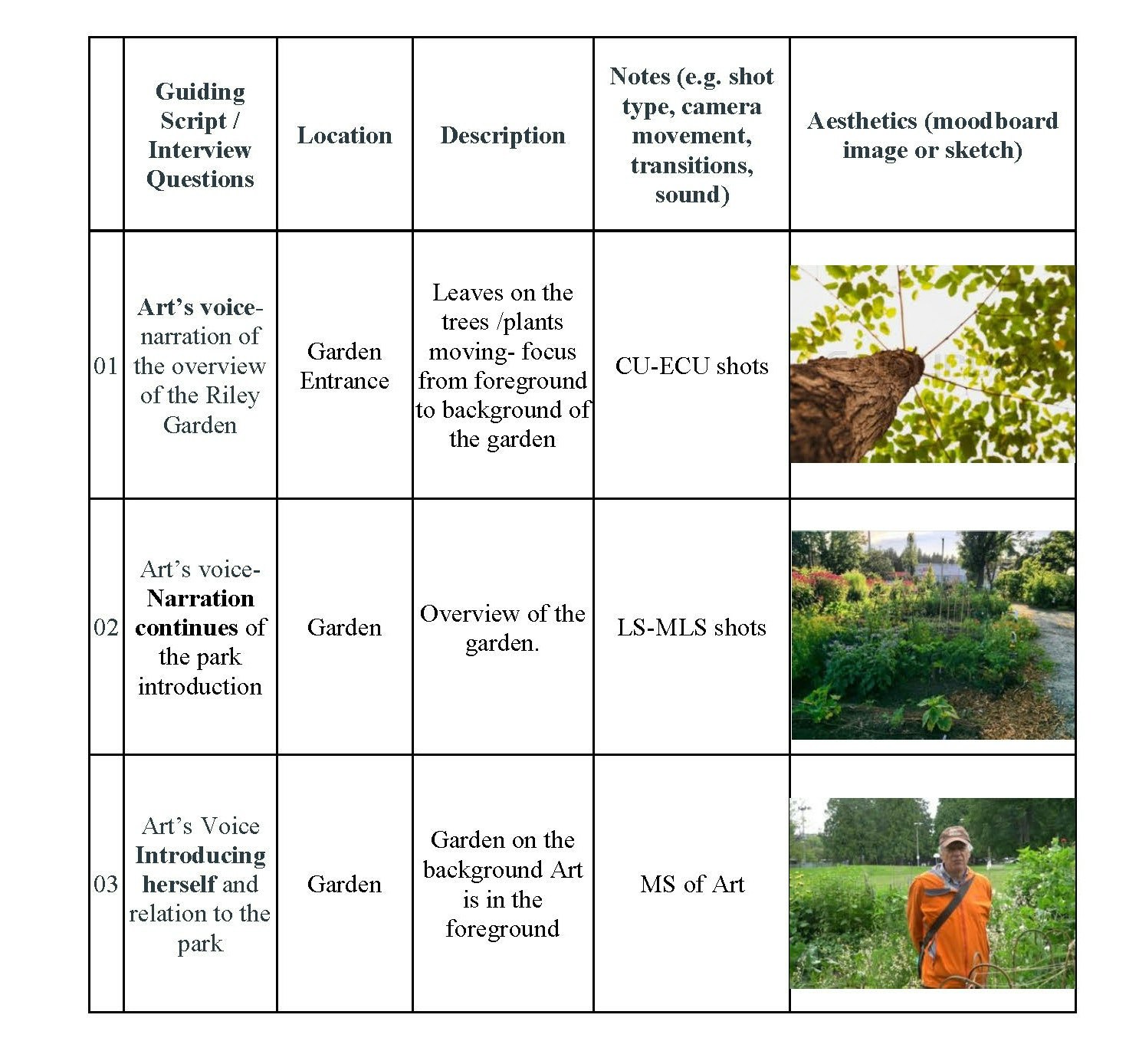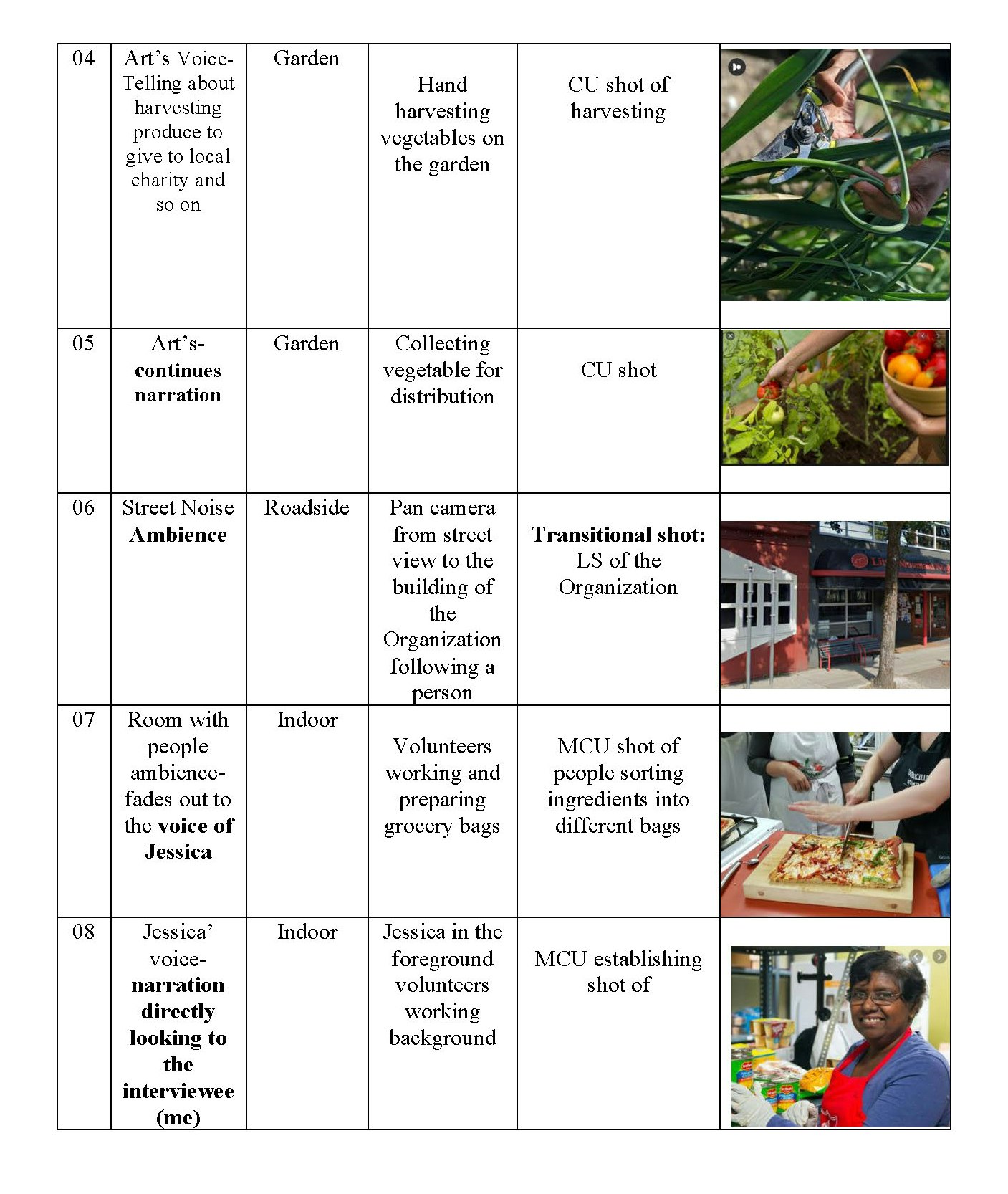 Music by Peter Rudenko and Xylo-Ziko


https://freemusicarchive.org/music/Peter_Rudenko


https://freemusicarchive.org/music/Xylo-Ziko
Casting: Jessica Ye and Arthur Bomke