Book Cover Design is more than Simply Art.

In today's world, where the average human attention span is less than a goldfish, designing for functionality and information book cover design is more than designing for sale results. Book Cover Design is more than just making a first impression on potential readers. It tells a longer narrative than you may think.........
There has been a cross cultural interchange of design between East and West over the ages. In this curatorial project, I'd want to look at how Asian cultural heritage is reflected in immigrant literature via book covers. An eye-catching cover for a new edition of a classic book and how it affects its readership with each decade's new generation.
Despite the existence of Chinese, English, and bi-language immigrant literature, the relevance and significance of the text in Chinese has remained under-researched, and so needs to be investigated more. These writings are the most exciting addition to transcultural literary traditions because of their insider/outsider perspective on global cultural phenomena.
This is essentially a technique to approach texts as 'culture records,' but afterwards it will be viewed as 'signs' for cultural activities. Wang, Y. (2014) reminds that 'culture studies might be seen in its aim of understanding cultural activities as a successor to semiotics.' Semiotics' aim is to study the norms and operation of the sign systems that comprise the world of humans.
I'll be looking specifically at the "Joy Luck Club" from 1989 to 2001 in two separate countries: America and China. The book is based on Chinese mothers with daughters who are American born. The daughters always battle with their Chinese culture and ideals to satisfy their moms. As the children age and become women, they try to create their own views on love and life. Each mother believes her daughter knows the best. They have a major effect on the life of their girls. The book consists of four Chinese American households of immigrants in San Francisco. The book is designed like a mahjong game with four sections separated into seventeen chapters. The three moms and four children tell vignette stories about their lives. The parables concerning the game are preceded by each component.
Take notice of both the importance of Mahjong in the history and of the book, as a cultural reference. Mah jong is a Chinese gambling game in which 4 individuals, often women, compete each other with colourful chips, 128 tiles of bone and/or ivory. During an amah jong party, friends may get together, talk and enjoy wonderful cuisine. Mah Jong is a popular game across the whole of China, notably in San Francisco Bay Area and many large towns in the East Coast. Mah jong was often played in China until 1949, when all sorts of gambling were prohibited by the People's Republic of China. Since the early 1990s Mah jong has been popular in the mainland of China (Leonard, G.J. (Ed.). 1998).

While it's apparent from the cover that young lit readers are the target audience. Although, in recent times, this book is more commonly seen in scholarly literature. Joy Luck Club's sales pitch is clearly geared at a wide range of market groups, using a simple yet attractive Chinese style design element in many of its various edition in China and America.
Matthews, N., & Moody, N. (2007) mentions paperback cover art may be viewed as a clue to how literature and other creative traditions might have diffused amid the currents of pop culture throughout the 1960s - a downward and outward redirection of the autonomous intellectualism.
The Cover I Know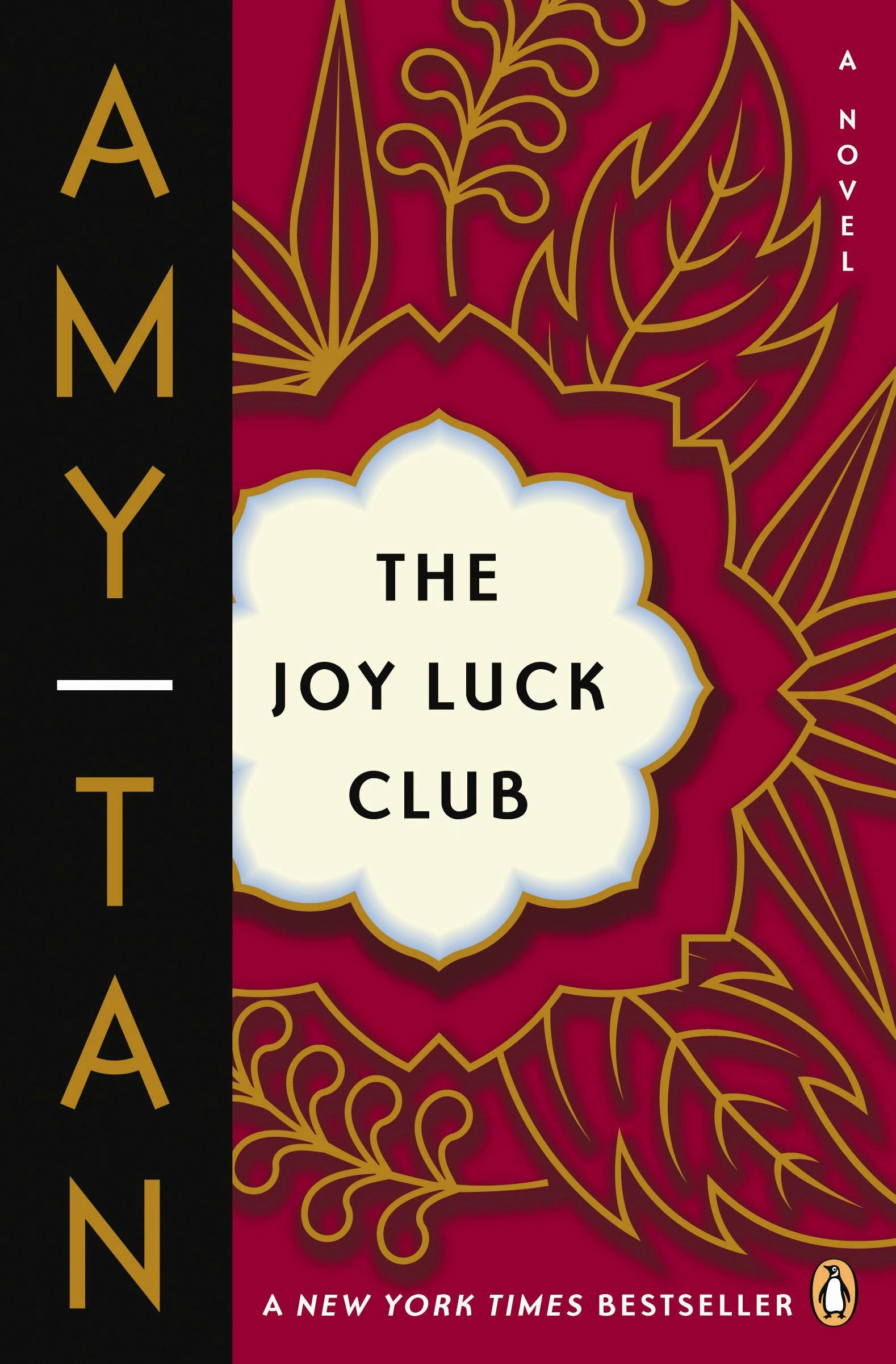 The retail price is $34.75 for hardcover and paperback at CAD $17.81.
I stumbled across "Amy Tan" at the basement library of my dorm, and this was also assigned reading for my English class in my first year. I loved the magnificent plain covers and couldn't tell what the tale would be, untill I this piece of work.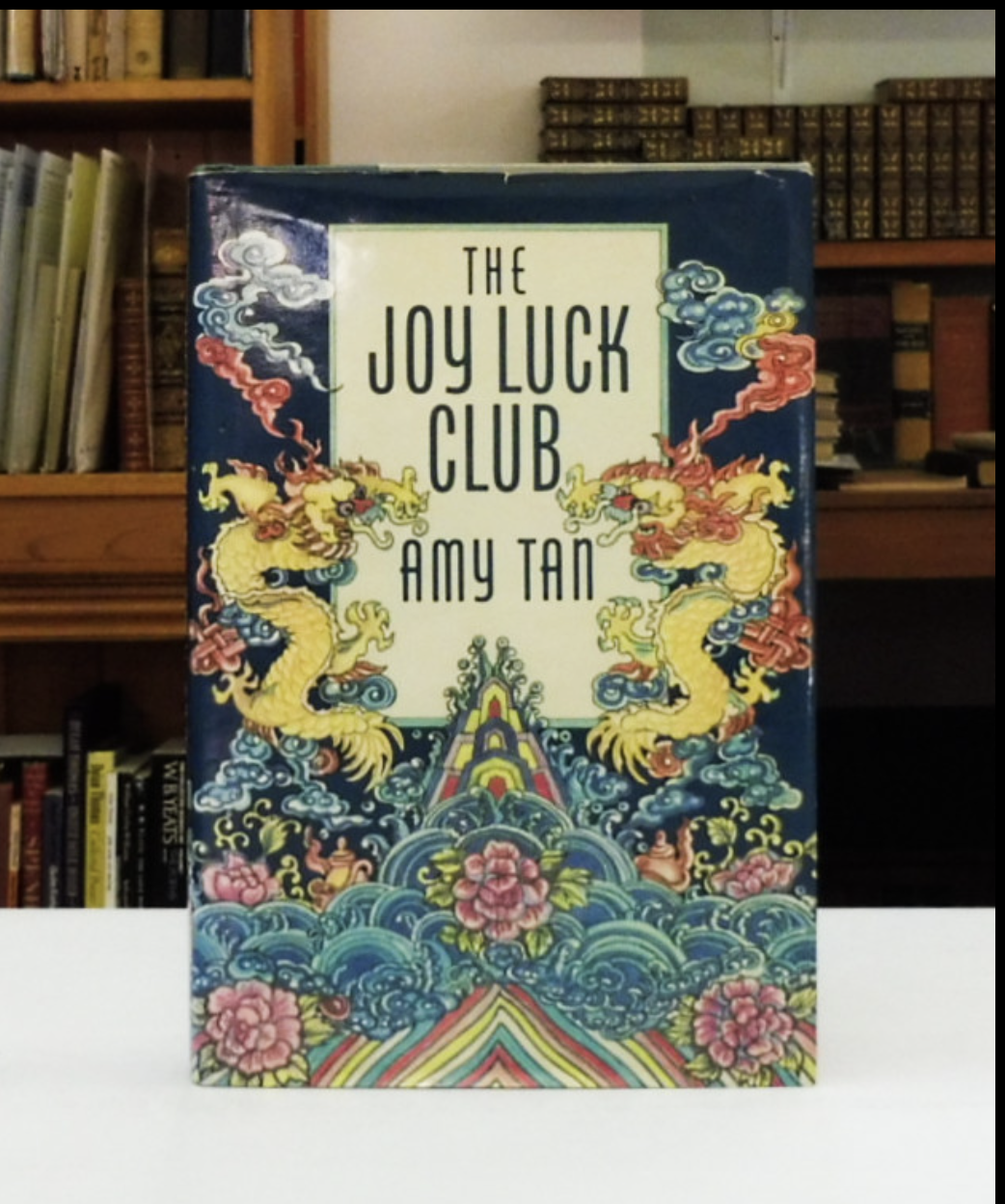 The retail price on book depository is CAD$46.26 for hardcover.
You can probably guess that there were multiple Chinese editions of this, given the whole point of the content about mother-daughter relationships of Chinese immigrants to the US.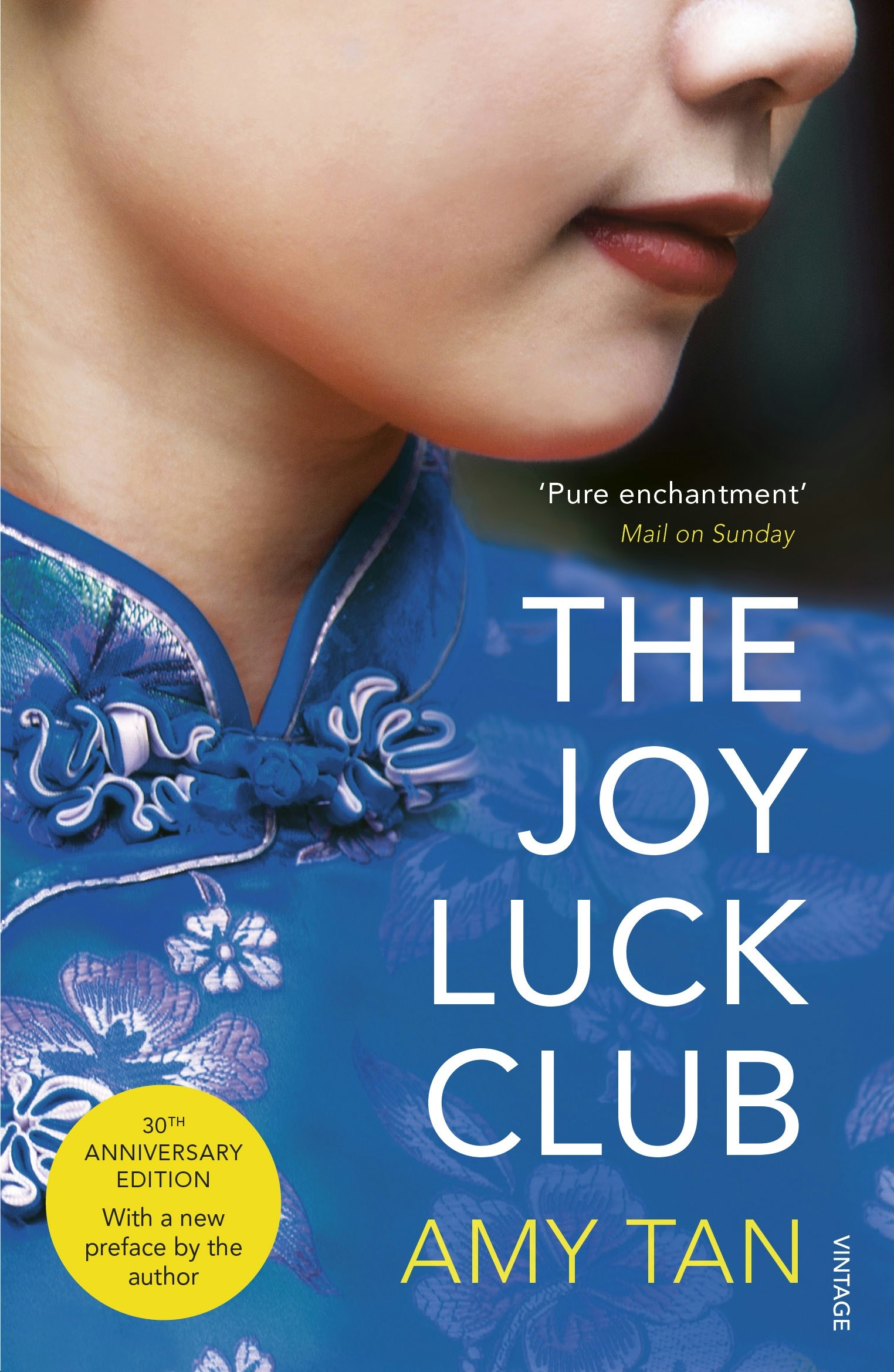 Retail price on book depository is CAD$17.81 for paperback.
The beauty, the aesthetic worth and the distinctive character of Chinese design are apparently appreciated. However, the cultural meaning was altered by the shift in the way design components were employed. The dragon's robes of Chinese are symbolic and a social indicator. Whilst design components in western fashion, such as colour and patterns, may not communicate the same message, they express the same symbolic quality, instead. It is widely seen that the beauty of cultural diversity makes graphic design distinctive and worthwhile. Otherwise, the diversity of cultures might lead to a poor design because of a cultural barrier between the designer and those from a different cultural background. Misreading and misunderstanding of some cultures may lead to a failure in design or conflict among cultural groups.
Chinese Edition:
Given all the material of mother-daughter ties between Chinese immigrants and the United States, you can certainly assume that this was in many Chinese versions.
I looked for the Joy Luck Club on Worldcat and filtered it by Chinese and dates. While this list lacks photos, I used Google Image Search /Abebooks to look for cover images using the Chinese titles and publisher names.
I was attempting to find out when China's international sales rights were sold. Because, even if the English version was released in 1989, there may not be a Chinese edition for several years, depending on when the rights were sold. According to the Worldcat list, Chinese translations were available as early as 1990. China isn't listed in the initial list of international rights sales, but I can't seem to locate when they were sold. I was unable to come up with a conclusive solution. But, if you'll bear with me until the end, I'd want to draw your attention to one of the key elements in all of the covers on this page.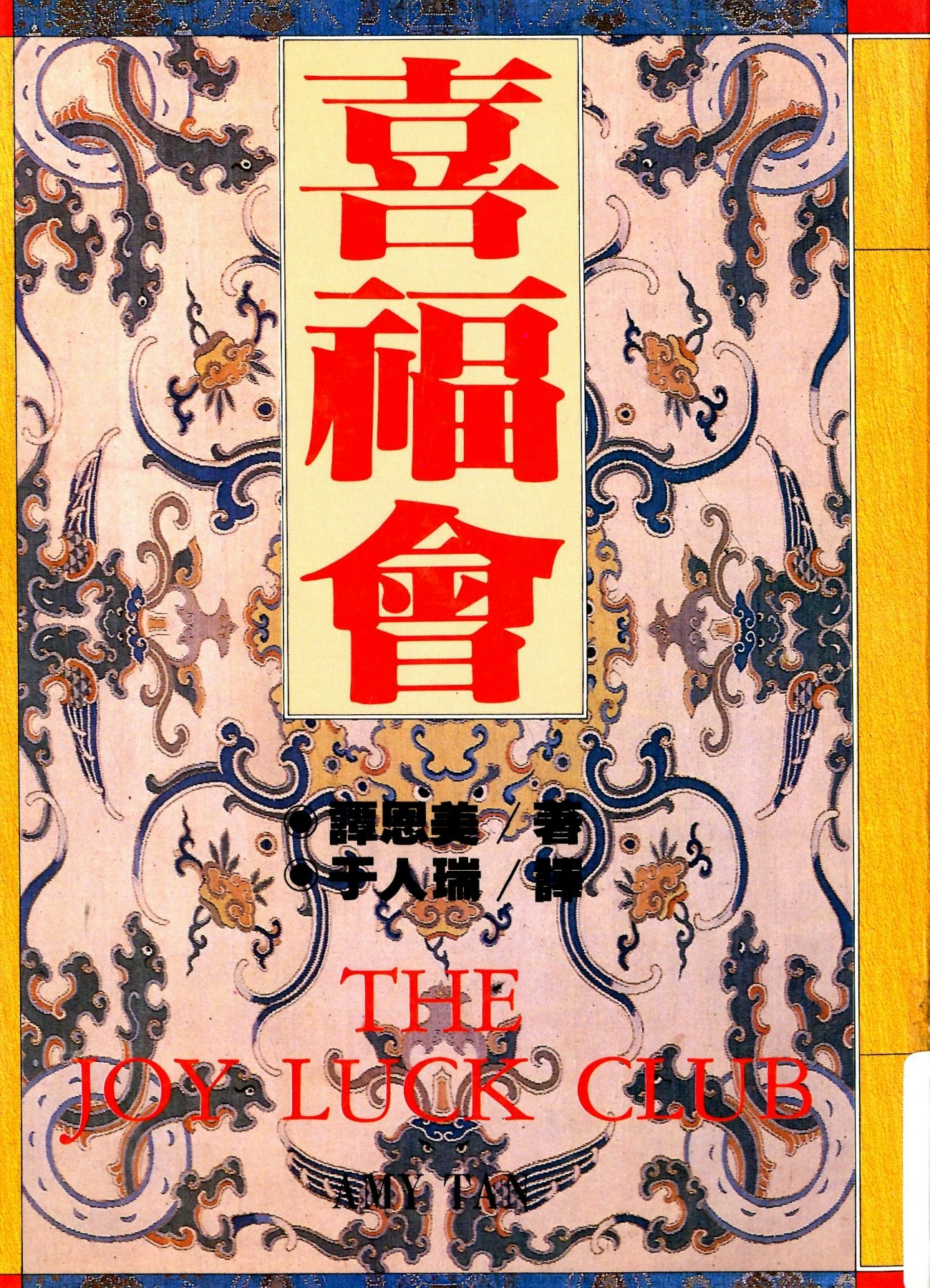 Retail price for paperback is CAD$18.71.

This is the very first edition, issued in China in 1990. The cover is quite traditional, featuring a Chinese stamp and traditional Chinese lettering. Although it has no remarkable feature in design that provides us an insight into the plot of the work. Except for traditional Chinese folks, it may appear like a plain book in America based on the book cover.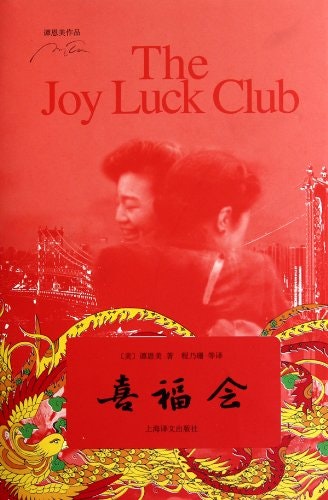 Retail price for paperback is CAD $54.32.
I appreciate they opted to depict the closeness of two ladies cuddling on the backdrop of San Francisco with their cover. And, naturally, a lot of gold and crimson.

My take on the book cover art:
The fundamental element "Dragon": you are accurate if you guessed the dragon on each of the book covers. If you're like me and aren't Chinese, you might believe they chose the dragon because it's a symbol of Chinese culture in any setting, but there's more to it in Chinese culture. And I'd be happy to tell you more about it in terms of my book cover design and its relevance to the novel's plot.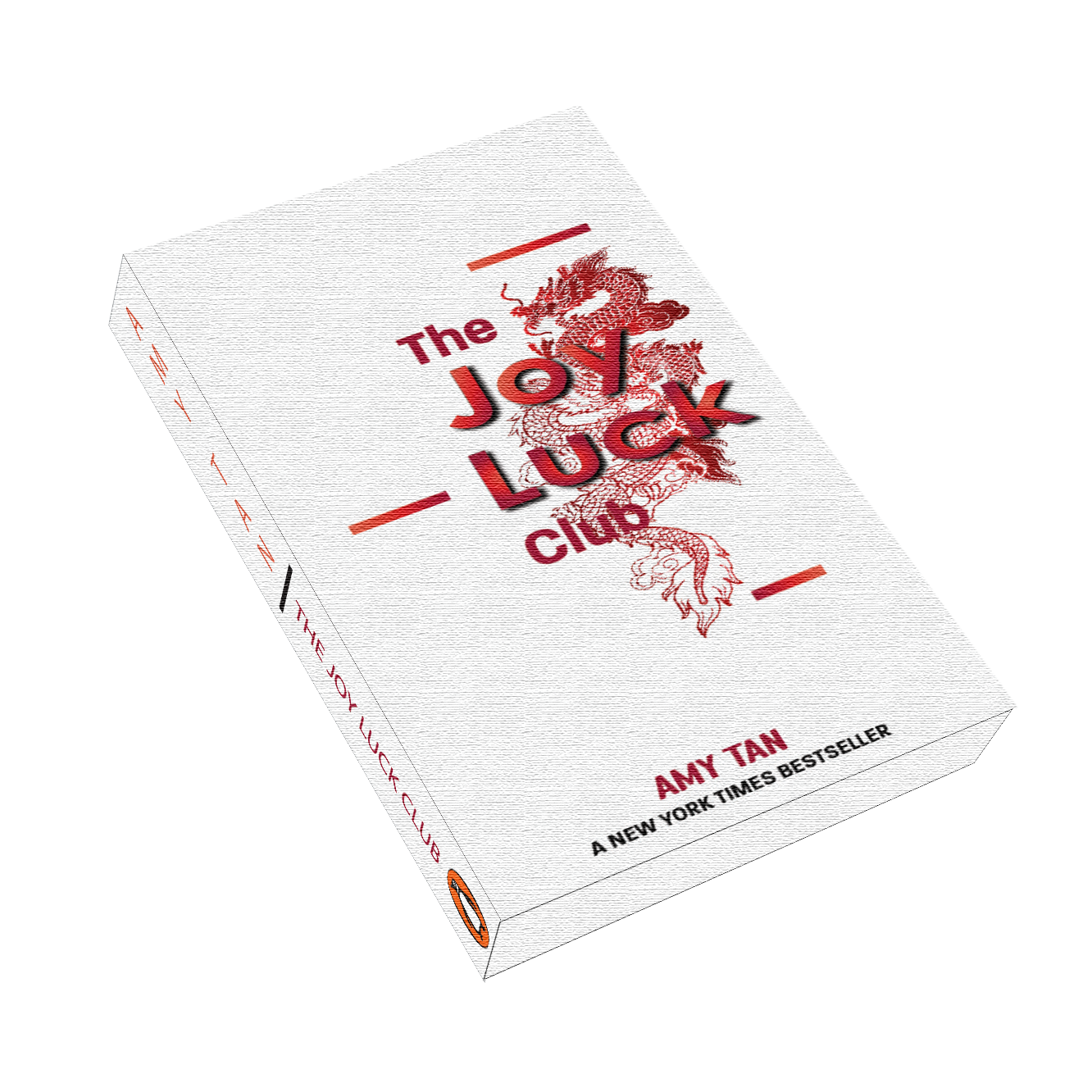 Design Rationale: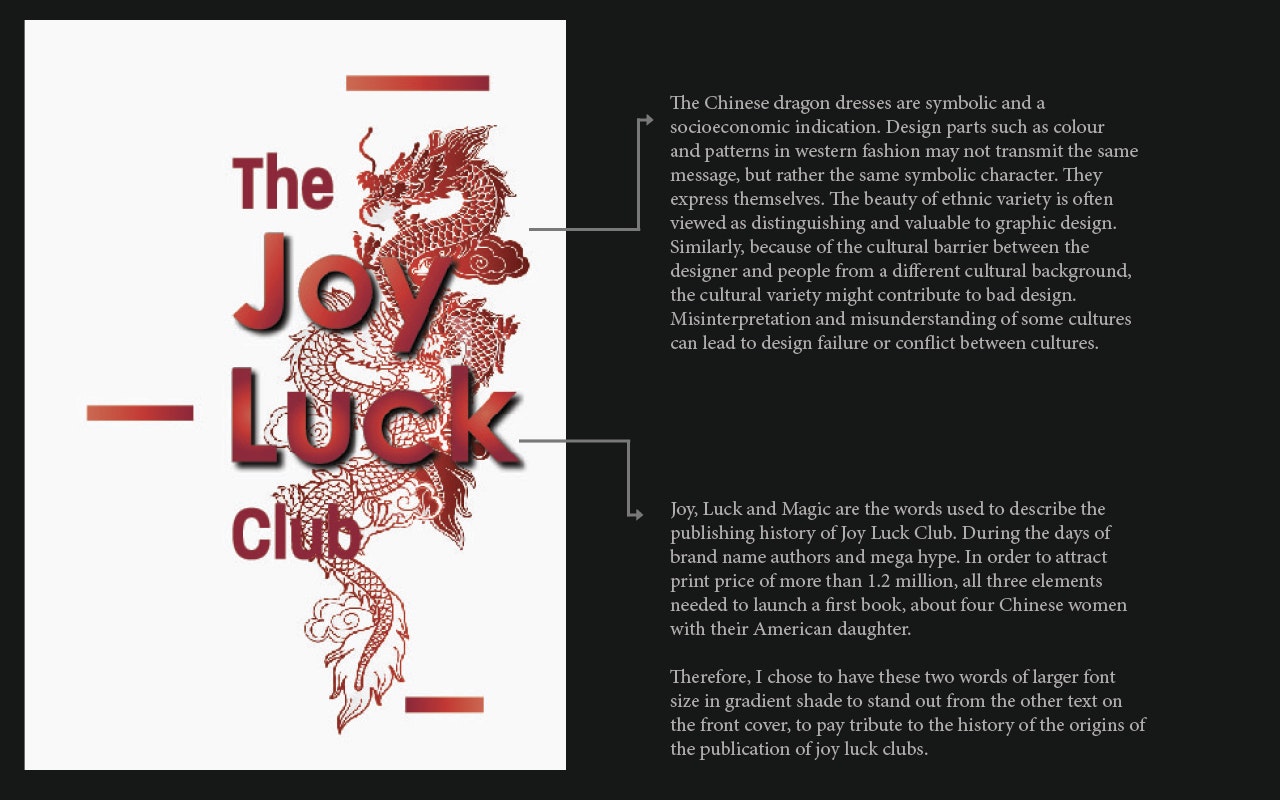 The power of narration: As the inadequate language translation aggravates the divides between Chinese and American cultures, the mothers use storytelling to bypass these obstacles and connect with their daughter. And designers utilize recognized cultural components to communicate, but due to lack of cultural contexts sometimes they don't communicate well.
Take the original edition, which had dragons on the cover. Even if you are unfamiliar with the cultural background of what the dragon represents, you will instantly identify the dragon with Chinese culture. Again, on the 21st century book cover, an Asian woman is dressed in the traditional robe. All these aspect represent Chinese culture thanks to pop culture and media representation. Over the years, there has been an intercultural design interaction between East and West. It is obvious that its beauty, aesthetic value and individual character are valued. Chinese design. The cultural significance was changed nevertheless by the shift in the use of design components. Chinese dragon dress are both symbolic and a socioeconomic indicator of social position. Design parts such as colour and patterns in western fashion may not transmit the same message, but rather the same symbolic character (Lin, Shu-Hwa, & Johnson, Rayneld. 2017). They express themselves. The beauty of ethnic variety is often viewed as distinguishing and valuable to graphic design. Similarly, because of the cultural barrier between the designer and people from a different cultural background, the cultural variety might contribute to bad design. Misinterpretation and misunderstanding of some cultures can lead to design failure or conflict between cultures.
Shen, Tian. (2017) states on her journal " ancient Dragon of China is the cosmic Qi, which in English means energy. In Buddhism, Qi is the common idea and Chinese science of medicine. In this universe human and other animals have energy or life strength, also known as Qi. This is what signifies happiness, grandeur, spirituality and magic (22). As a result, it establishes a link between the spirit at the core of the storey and the power of life. The core essence of The Joy Luck Club is an ongoing debate over how much power characters have over their own fates. Elements from the Chinese belief system reoccur in the characters' explanations of their characteristics, such as the twelve animals of the zodiac and the five elements. The dragon symbolizes the life-power of this narrative. Looking back on many cover and their versions throughout the last decades, one of the hopeful aspects was to illustrate how the Chinese culture also speaks.

Typographic choice:
Joy, Luck and Magic are the words used to describe the publishing history of Joy Luck Club (Feldman, G. 1989). During the days of brand name authors and mega hype. In order to attract print price of more than 1.2 million, all three elements needed to launch a first book, about four Chinese women with their American daughter.
Therefore, I chose to have these two words of larger font size in gradient shade to stand out from the other text on the front cover, to pay tribute to the history of the origins of the publication of joy luck clubs.
---
Bibliography:
Benton, M. (1995). Sizzle and smoke: Iconography of books and reading in modern american advertising. Publishing History, 38, 77. Retrieved from http://proxy.lib.sfu.ca/login?...
Cover image: https://www.penguinrandomhouse...

Feldman, G. (1989, July 7). The Making of Amy Tan's The Joy Luck Club. PublishersWeekly.com. https://www.publishersweekly.c...;
Figure1: Tan, A. (2019). The joy luck club (US 30th Anniversary edition). Penguin Books. Retrieved from https://www.arts.gov/initiatives/nea-big-read/joy-luck-club
Figure 1: Tan, A. (2019). The joy luck club (US 30th Anniversary edition). Penguin Books. Retrieved from https://www.arts.gov/initiativ...
Figure 2: Tan, A. (1989). The joy luck club (First US Edition). Penguin Putnam Inc. Retrieved from https://www.wsj.com/articles/w...
Figure 3: Tan, A. (2001). The joy luck club ( UK 30th Anniversary Edition). Vintage Publishing. Retrieved from https://www.penguin.com.au/boo...
Figure 4: Tan, A. (1990). Hsi fu hui =: The Joy Luck Club. Tʻai-pei shih: Lien ho wen hsüeh chʻu pan she. Retrieved from https://www.mocanyc.org/collec...

Figure 5: Tan, A. (1999). Xi fu hui =: The Joy Luck Club. Hanghzou: Zhejiang wen yi chu ban she. Retrieved from https://www.amazon.com/Joy-Luc...
Goodreads. (2006, September 21). The Joy Luck Club by Amy Tan. Goodreads. https://www.goodreads.com/book...;
Leonard, G.J. (Ed.). (1998). The Asian Pacific American Heritage: A Companion to Literature and Arts (1st ed.). Routledge. https://doi-org.proxy.lib.sfu.ca/10.4324/9780203344590
Lin, Shu-Hwa, & Johnson, Rayneld. (2017). Design Exchange of Chinese Qing Dynasty Dragon Robes and Western Fashions: Toward a Theory of Design. Iowa State University Digital Repository.
Matthews, N., & Moody, N. (2007). Judging a book by its cover : fans, publishers, designers, and the marketing of fiction / edited by Nicole Matthews and Nickianne Moody. Ashgate Pub.

Tan, A. (n.d.). The Joy Luck Club. https://sfu-on-worldcat-org.pr...;
Shen, Tian. (2017). Recognition of symbols in different cultures: Chinese culture vs. non-Chinese culture. Iowa State University Digital Repository.
Wang, Y. (2014). Learning across Borders: Chinese Migrant Literature and Intercultural Chinese Language Education. Language and Intercultural Communication, 14(3), 339–351. https://doi-org.proxy.lib.sfu.ca/10.1080/14708477.2014.901598